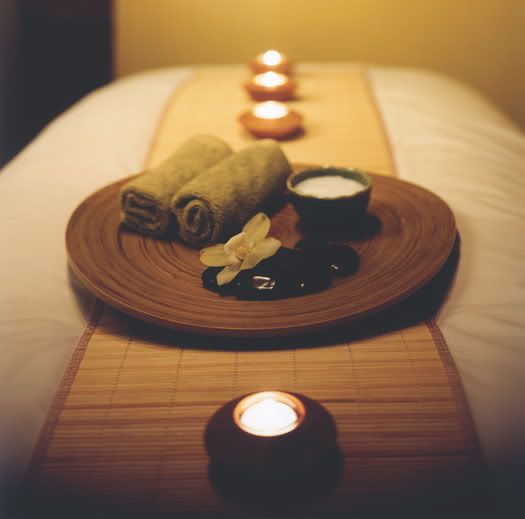 Spa is the new golf. Yep, it's true. 20 years ago hotels used the golf course to try to lure prospective travelers to their locations but that has changed. "Come play our 36-hole championship golf course designed by Jack Nicklaus" has now become "Luxury awaits you at our premier aromatherapy spa with 35 treatment rooms and 4 private hot and cold plunge pools."

It seems that nowadays every hotel has a "world class spa." You expect that 5 star properties will have excellent spas. What we are finding though is that, one after another, 3-4 star properties are all trying to outdo each other in the luxury spa arena. And it's not just the resort properties- we are seeing a dramatic increase in the number of luxury spas built in business hotels. What business traveler doesn't want a massage after a long day of rude airport personnel and cramped coach seating? But I bet not many of them expect a luxury spa at a business hotel in Dallas. (See the Omni link below)
Many of these hotels are capitalizing on the fact that current popular opinion shows distaste for expensive corporate retreats. Brand discrimination has become big business as so many companies pull away from the luxury hotels in favor of one with less opulent name associations. No one wants to seem to be doing anything very extravagant, lest their stock holders throw a tantrum and the national media throws them under a bus. Stock holders might blanch at the idea of having a corporate retreat at the Ritz or a sales incentive at the Four Seasons but would they even bat an eye at the meeting held at the Omni or Westin? So, as eyebrows are raised and budgets are slashed, we have seen a huge movement in the meeting and incentive industry towards 3-4 star hotels. The competition at these hotels has become fierce and the battleground is the spa.
With exotic themes varying from Chakra Cleansing to Hydrotherapy to Thai Massage to Aromatherapy to Elements or Gemstones Therapy, the spas keep getting bigger, more fragrant and even more luxurious. Many tout huge square footage (up to 100,000sf!) and "ultimate relaxation."
As you may suspect, along with the luxury comes a hefty price tag. Even at the less expensive properties, you can expect to pay upwards of $200 for a 60 minute massages and a manicure could cost you over $100. Of course, they need those high treatment prices to pay for the astronomical upkeep of the spa itself. You have to keep the plunge pools hot/cold and full of water, keep the saunas steamy and mud baths muddy, employ a variety of staff positions from receptionists to therapists, keep a decent inventory of high-end spa products, provide all manner of courtesy items (from tea, towels, robes and slippers to hairspray and tampons), employ laundry and housekeeping services as well as gardeners for the flora (especially in the tropical locations), the list goes on and on.
Is the cost worth it? Every time I have visited a hotel recently and taken a tour of the spa, it has, without fail, been empty. Perhaps I always came at the wrong time or they had cleared the place out especially for us. However, it does beg the question of whether the price of building and maintaining the spas are cost effective. If people are drawn to a location BECAUSE of the spa, does it matter whether or not they actually USE the spa? The properties are still making money on food and beverage, room rates, resort fees and other extras such as tours and equipment rentals. In the case of group travel there are also AV and entertainment costs, f/b minimums, room rental charges and other assorted fees. But is it enough to cover the loss of revenue on an empty spa?

The entire industry is struggling and any way to boost sales and occupancy is excellent. However, I would really like to know if the spa-wars are working for these hotels. I welcome feedback as to whether they are measuring the true ROI of the additions. Is the gain worth the cost?

Would you choose a hotel because of the spa? And looking to the future, what do you think will be the next big draw?

Some of the latest, greatest and most interesting spas we've recently seen from historically non-luxury brands:

Fiesta Americana Cancun
Hard Rock Hotel Punta Cana
Le Blanc Cancun
Omni Las Colinas

Also check out the 2010 Conde Nast Top 240 Spas in North America, Hawaii, Central America and the Caribbean



Anjee Sorge
Director of Operations, FLG